Richard joined the Balamu project as a Medical Officer and is a postgraduate clinical fellow at the Balamu Project.
His role in our team is to support the design and implementation of our population-based studies. In addition, as a medical doctor, he has great responsibility in the NCD clinics, caring for patients with chronic diseases such as hypertension. Richard  has a strong interest in non-communicable diseases especially Chronic Kidney Disease (CKD).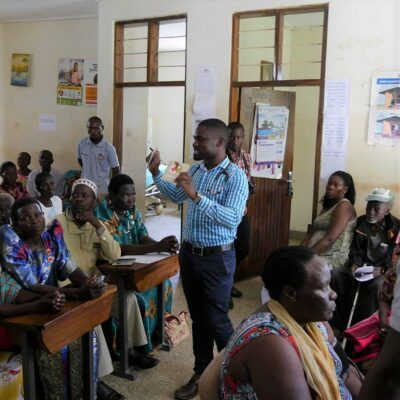 'CKD remains underdiagnosed and very expensive to treat. Many patients seek medical attention when their disease is in advanced stages, which is so expensive to treat.'
Over the next year, Richard will study and characterise CKD among rural populations in Uganda and examine the role of Saliva Urea Nitrogen (SUN) in Kidney Disease Diagnosis when combined with a CKD case-finding questionnaire and machine learning. He believes that this work has the potential to an alternative cheap way of diagnosing CKD in Uganda.
Richard is a recipient of the prestigious UJMT Fogarty International Global Health Fellowship. His interest is to transition his medical training into a career of public health science aimed at ensuring equitable access to health care, building resilient communities through bridging the gap between scientific evidence, policy, and practice in low-income countries.