Our team is proud to announce Dr. Robert Kalyesubula's new publication titled 'Measurement of kidney function in Malawi, South Africa, and Uganda: a multicentre cohort study'.
The burden of kidney disease on the African continent remains unknown. Since current examination methods for estimating renal function using serum creatinine have limited regional validation, this study aimed to determine the most accurate method to estimate the prevalence of impaired kidney function in African populations. To this end, the renal markers serum creatinine, cystatin C, and glomerular filtration rate (GFR) were measured in cohorts in Uganda, Malawi, and South Africa.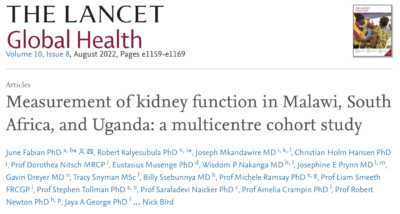 Existing estimates of GFR using serum creatinine significantly underestimate the burden of impaired kidney function in African populations, which impacts understanding of disease progression, complications, and overall clinical care. Scalable and affordable methods to accurately detect impaired kidney function in Africa are urgently needed to provide the best possible care for patients. In this study, a new creatinine-based equation tailored to populations in western, eastern, and southern Africa was developed and validated to predict the prevalence of impaired renal function in these populations.
We congratulate our principal investigator on this effort. Please access the full publication which was published in the prestigious scientific journal The Lancet Global Health here.
To learn more about other recent and past academic and non-academic articles of our team please visit our publications page.